A Cockapoo is a mix between a cocker spaniel and a poodle resulting in a small low to non-shedding, low to non-allergenic puppy that is highly intelligent with an amazing personality. We raise quality cockapoos in Central Indiana. We are about an hour north of Indianapolis and 2 hours south of Chicago. We are a small breeder and raise only a few litters a year in our home. We choose our parents very carefully focusing on health and temperament ALL of our parents are genetically health tested and all clear prior to breeding. Our puppies are born and raised in the central part of our home and are socialized with children of all ages as well as our adult dogs.

All of our dogs live in family homes and our puppies are registered with the American Cockapoo Club. (ACC) We specialize in smaller cockapoos 14-20 lbs.

Please don't dwell on the generation of the cockapoo, but rather the features, the health, and the temperament of the parents and puppies.
How to adopt
Since we do not choose puppies until they are 5 weeks old, getting on the waiting list is the best way to secure a puppy. A non-refundable $200.00 deposit is required to hold a place in line and will be applied to the final price of the puppy.
Once the puppies are born we will share photos regularly and you can watch the puppies grow. Once the puppies are 5 weeks old we will have a selection day and everyone can make their pick in the order they are on the waiting list.
If the puppies that are available aren't exactly what you are looking for, you can choose to move to the next litter and keep your place in line. We do this to allow the coat, personalities and features of the puppy to become more prominent and clear. We want everyone to be thrilled with their new family member.
Heavenly Cockapoos does reserve the right to keep up to 2 puppies from each litter.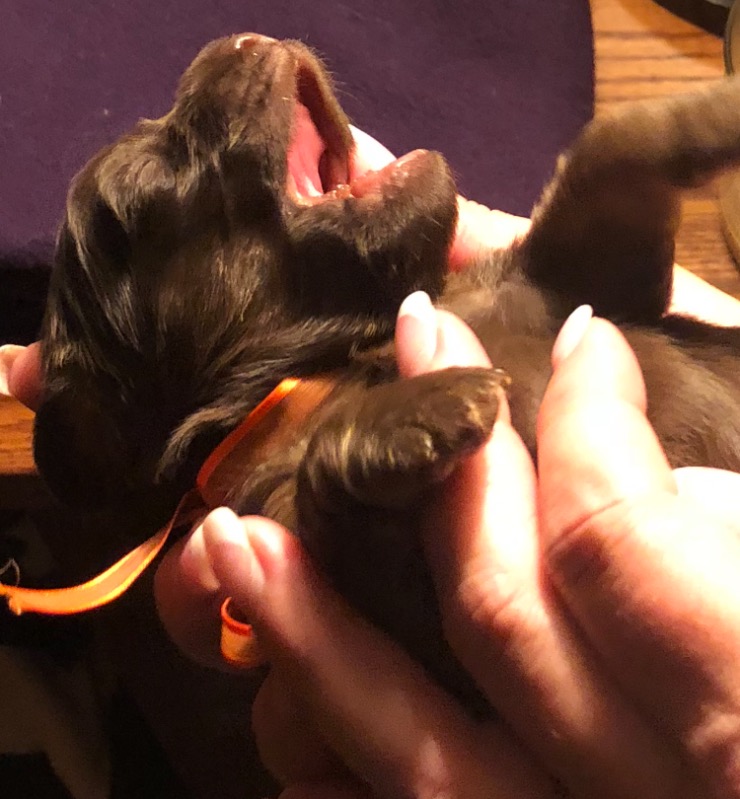 What to expect
All of our puppies come to you WELL-loved and socialized. I teach flute lessons in our home and students, parents, and siblings love to come play with puppies when they are here.
Our babies all come with their dew claws removed. They are microchipped.
Up to date on shots and wormings.
They have been vet checked and will have had their first heart worm pill.
They are well on their way to potty training.
They are registered with the American Cockapoo Club (ACC)
They come with a 1 year health guarantee (2 years with the use of Nu-Vet)
They come home with a snuggle blanket that their siblings and mom have slept with, a collar that they are used to wearing, toys that the litter has played with, and a 2.5 lb bag of food.
Just can't bear to take these photos down of our some of our girls this summer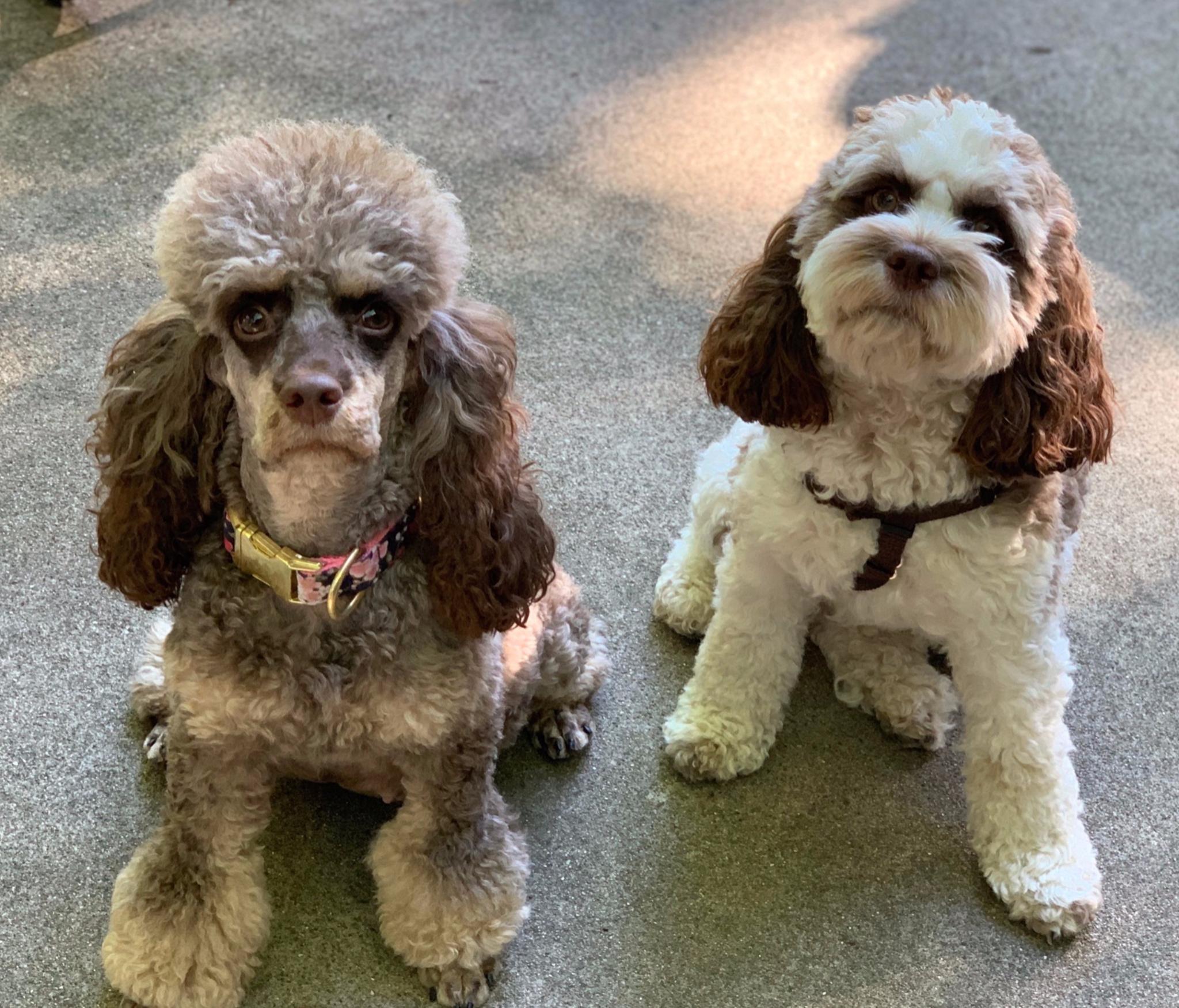 Presley was here to have her babies and Lhotse her sister was here on a date with Chance.
Lhotse, such a gorgeous girl!
A generational photo: Presley the grand baby on the left, daughter Ivy in the middle and Lyric, the Mom who started all of this.

Ivy just sunning and keeping her eye on EVERYONE today.
Planned litters for December 2020
Chewy is about the sweetest little man ever. His babies have the most amazing dispositions just like their Daddy!
This is Hazel, she lives with an amazing guardian family, and will be expecting her first babies around Christmas. I suspect she is going to be an amazing Mommy, she is already practicing on the family guinea pigs. She cleans them and nuzzles them honing her skills.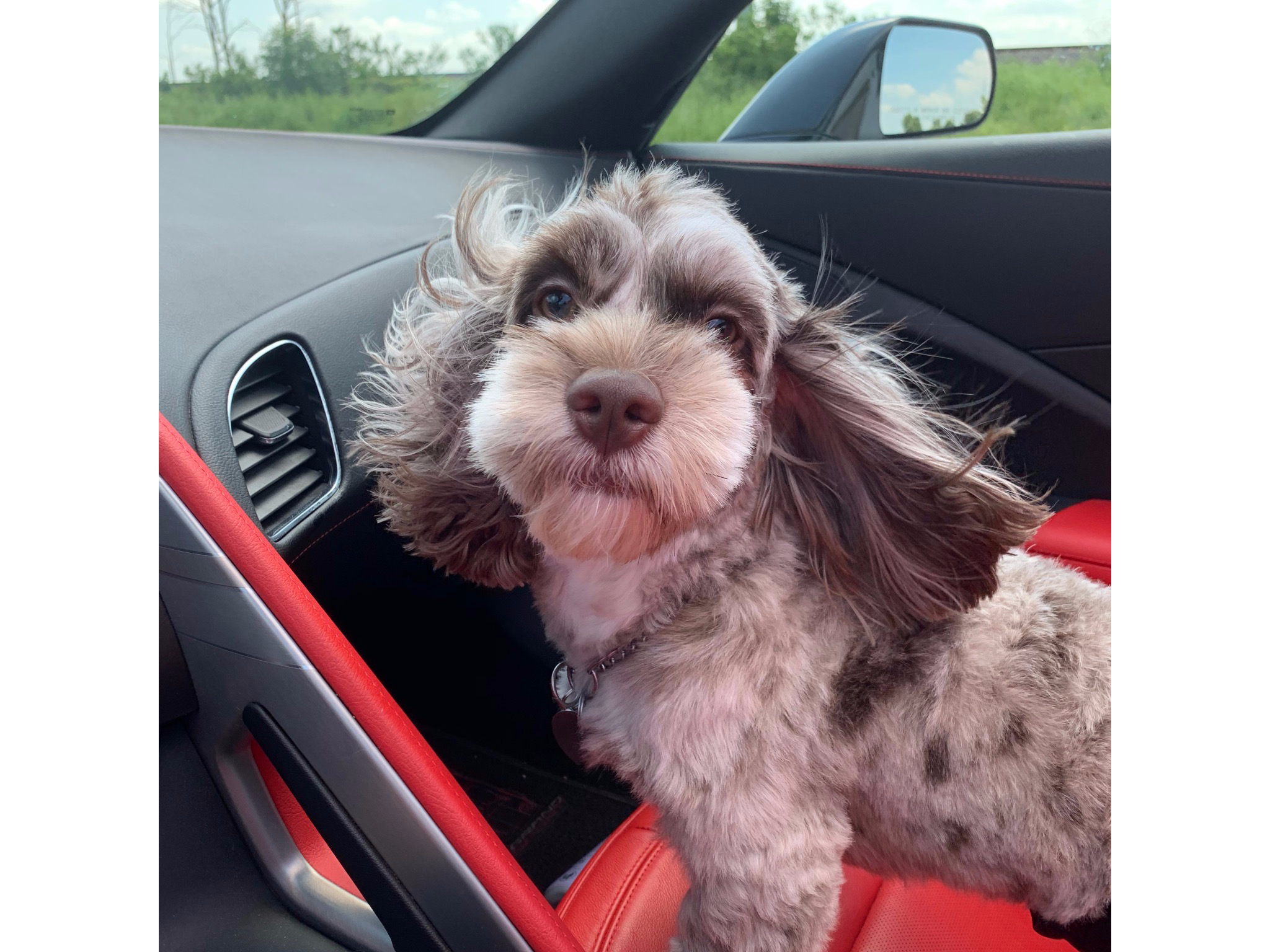 Chewy will be the proud poppa of a litter with Ivy. He lives in a guardian home but 2 of his human sisters have moved to town so I just might get to visit more often with him.
Ivy lives with me and is my shadow 100% of the time. She loves to go for rides in the car. She's been an amazing part of our program and has absolutely gorgeous babies.
Planned litters for January 2021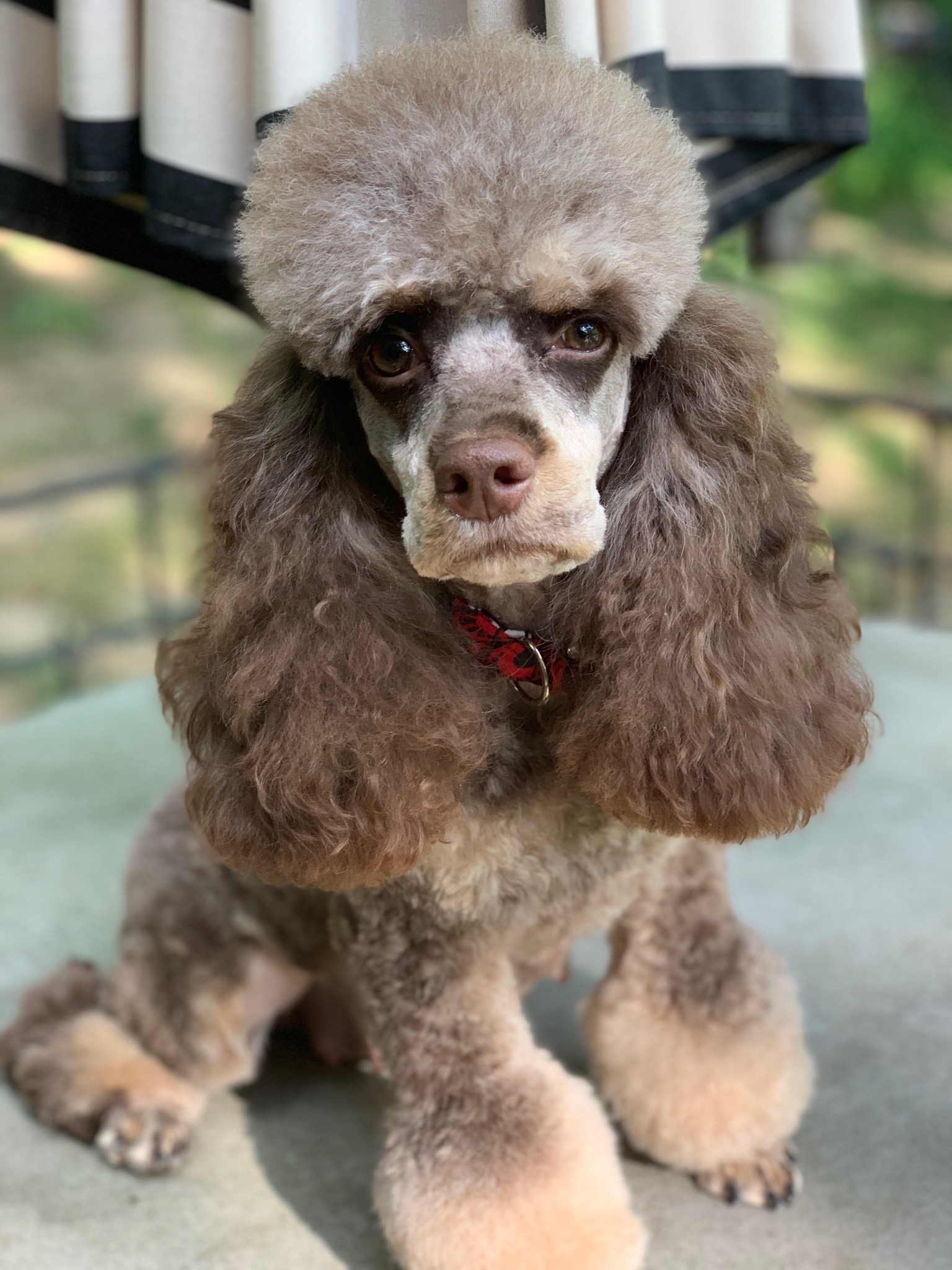 Presley is just about the sweetest dog ever. She definitely takes after her mother. She has gorgeous shades of apricot, black and black phantom. Expecting end of December litter...
Chance is the most loving, affectionate little boy. He loves to snuggle and lets Presley be in charge of their house. His babies are always incredibly sweet and all love to snuggle just like him.
Yo-yo was a first time Mom this year and did an amazing job with her babies. She and Chewy will be a repeat breeding. They had gorgeous chocolates and chocolate merle parti babies. Absolutely sweet and incredibly gorgeous. Expecting end of December litter...
Chewy is an absolutely lovable little man. Every one of our dogs enjoys his visits. He blends right in with our crew, and sleeps in bed with us while he's here. He has had some amazing babies, as sweet as they are gorgeous.
Planned litter for 2021, standard cockapoos!!!

Preston is a standard cockapoo that lives with a wonderful family here in Lafayette. He will be a first time Daddy with Chloe this fall. He and Chloe love having little play dates, and I cannot wait to see what their little ones look like.
Chloe is our Standard poodle and lives here with us. She will be a first time Mom, but has lots of "experience" with babies. She LOVES being a part of every litter of babies here. We refer to her as Aunt Chloe. She is the absolute sweetest girl who loves to be held like a baby, snuggle and kiss.
WAITING LIST
1. Kip and Stephanie Whitehead: Chloe & Preston
(or light)
2. Brad Fuller
3. Christina Dunn
4. Lauren and Darryl Silverman
5. Emily McCord and Nicole Riley (wait for 2021)
6. Mathew Samuel: boy or girl
7. John Brothers
8. Daniel and Rebekah Bozarth: female
9. Raheel and Vanessa

WAITING LIST:
1. *Kelly Smith and family: chocolate *skip, until contact*
2. Katherine McLear
3. Zach and Sarah: female, chocolate, variety, smooth
4. Teagan Hammond: male***waiting 2021***
5 . Kip and Stephanie Whitehead: ALSO SEE CHLOE
6. Brad Fuller: ALSO SEE CHLOE
7. Christina Dunn: ALSO SEE CHLOE
8. Lauren and Darryl Silverman: ALSO SEE CHLOE: maybe Parti, but a bigger boy
9. Brent and Rachel Johnson: female, brown/black
10. Emily McCord and Nicole Riley: ***WAITING...(May,June,July 2021) ALSO SEE CHLOE
11. Heaven Johnson and family: boy chocolate/black
12. Shayla: 15lb. black or chocolate ***WAITING...summer 2021 June-August
13. Jay Lytle: female, dark, mini
14. Len and Pat Benes: medium/larger black male
15. Daniel and Rebekah Bozarth: female maybe ALSO SEE CHLOE: female
16. Krystle G.: parti, boy
17. Lauren Elyea: Boy, sweet, merle, straighter hair, other colors optional
18. Mathew Samuel: Chloe and Preston baby, boy or girl

19. John Brothers: Any, maybe Chloe and Preston baby
20. Loris Dyar: male
21. Jim and Emily Molitor: Luna or Dunkin
22. William and Janet Musil: Male apricot, red, buff
23. Backer family: maybe female, darker
24. Gibbons family: Female (not white)
25. Mike and Lori Brown: male
26. S. Dingman: female, medium, dark, red, less curly
27. Raheel and Vanessa: Chloe and Preston
28. Tisha Ringle: female, apricot, blonde
29. Alessandra and Jason: Female (open)
30. Molly VanZile
31. Joshua and Jennifer Fieleke: male
32. Marissa and Nick: male, no color preference
33. Hannah Culbertson: Female, chocolate, red, black, brown, curly
34. Kathryn: <20lb, white, male
35. Chris and Julie Marshall: female
36. Katy and Aaron: any puppy
37. McGuire family: female (maybe light)
38. Judy McGinnis: Curly black, parti
39. Sarah and Paul Rehbein: female
40. Mariel and Lee:
41. Schenk family
42.
43.
44.
45.
How it works: Once you place a non-refundable deposit, you are on the waiting list. When the puppies are 5 weeks old I go to the waiting list and in order you have the option to choose a puppy from the current litter or move to the next litter. You will never lose your place in line you will only move up as the people in front of you choose their puppies. Heavenly Cockapoos reserves the right to keep up to 2 puppies from any litter to help replenish our breeding stock. (This is not common, but CAN happen.) Getting on the list is the best way to secure a puppy from us.
This is Chewy (AKA Bizzy) He's a gorgeous miniature F1 chocolate Merle cockapoo. He will be one of our future Daddy's in 2020. He lives in a guardian home and I'm so excited to see the color he adds to our breeding program.
This is Dunkin, he's a gorgeous miniature F1 light apricot cockapoo. He is one of our future Daddy's in 2020. He has gorgeous green eyes and a liver nose and will also produce chocolates. He lives with his guardian Mom and has 3 human siblings. He's going to make an amazing addition to our program.
This is Sgt. Preston, he's a gorgeous standard red tuxedo boy. He will be one of our future Daddy's in 2020. He has gorgeous green eyes and a liver nose. I can hardly wait to see his babies, which are sure to be stunners. Preston lives in a guardian home and the best part is that he will get to visit often as his human sister is one of my students and has a lesson here every week.
This is Chance, he is a gorgeous F1b cockapoo. He lives with my nephew here in town, literally one minute away. He is the sweetest boy, who steals the heart of everyone he meets. I'm so thankful we get to spend so much time with this little love bug. He has the silkiest hair you will ever run your fingers through. (Cocker cut for fun)
This is Milo he is the newest member of our program. He has the most amazing aquamarine eyes, and liver nose, so he will carry chocolate. He lives with a guardian family just outside of Lafayette. Milo's parents are excited to have them filling up their lives as both are newly retired and excited about having a little one to spoil and share with grandchildren.
This is Lhotse (aka Holly) She is the daughter of Ivy. She is an F3 chocolate parti girl. She lives together with her fur "aunt" in a guardian home. She loves to play in the water in their yard, it doesn't matter if the water smells like fish or chorine. She will be one of our future Mom's in 2020.
This is Ivy, she is an F2 chocolate phantom cockapoo and the daughter of Lyric. She wears her hair in a ponytail so that we can tell her and her mom apart at a quick glance. She loves to greet her Mom's flute students every day and is certain they are there to see her, NOT to play the flute. She's been an amazing addition to our program.
This is Lyric, she's an F1 Chocolate phantom cockapoo. She was the start of our program. She is absolutely the most amazing Mom, if ever a dog was born to be a mom, it's her. She is never happier than when there are babies to be cared for. She doesn't care whose babies they are, she steps up and gets involved in caring for the kids. Lyric has retired now.
This is Luna, she is an F1b cockapoo. She is the daughter of Lyric and will be a future Mom in our program 2021. She has amazing silky hair. She lives with the Oselka family in northern Indiana. She is their first dog and has stolen their hearts. She has been experiencing all kinds of new things like Lake Michigan, and the beach...and her best friend is the cat. She's an absolute doll.
This is Yo-yo, she is an F2 chocolate phantom cockapoo. She is the daughter of Lyric and such a sweet girl. She lives in a guardian home with her Fur siblings which include both a dog and cat sister. She LOVES her Mom's human grandchildren and loves it when they come to play with her. She is passive, gentle and loving just like her Mom Lyric.
This is Chloe, she's a beautiful red/apricot standard poodle and has joined our breeding program. She is still in search of the perfect guardian home. Chloe is an old soul, and has the most gorgeous eyes, and softest hair that feels just like a snuggly blanket. She believes she is a lap poodle and loves being beside me in whatever I'm doing. She's so calm and wonderful with all the visitors we have each week. She has become a little obsessed with her toys, she brings them one by one to the room I teach in and after a few hours we have a collection of no less than 15 and she is usually napping on top of them all.
This is Poppy "Pomphrey" she is a Moyan size poodle that has joined our fur family and will be a future Mom. I'm so excited to have Poppy join us, she's an absolute doll baby. I fell head over heals with her mother last year and knew I had to have one of her babies. So thankful to have this little one join our program. She lives with her guardian family here in Lafayette where she has brother and sister Dachsounds, a cats that keep her busy.
This is Hazel, she's an F3 Chocolate and white parti miniature cockapoo. She is the daughter of Ivy. She is living in a guardian home in Kokomo with a fur sister and 3 human sisters. Hazel will be a little on the larger size likely reaching upwards of 20lbs. She is the love of her Mom's life. She will be a future Mom in 2021.
This is Frankie, she is an F2 chocolate merle miniature cockapoo. She is the daughter of Lyric and Chewy. She lives in a guardian home here in Lafayette with her Mom and two human sisters. Apparently the spoilage that I gave her and her sister while they were babies has carried over into her new life. She still loves being carried around, so much so that she has her own baby sling for her sisters to carry her around the house in. She is seriously one of the sweetest little girls, truly a reflection of Ivy and Chewy. She will be a future Mom in 2021.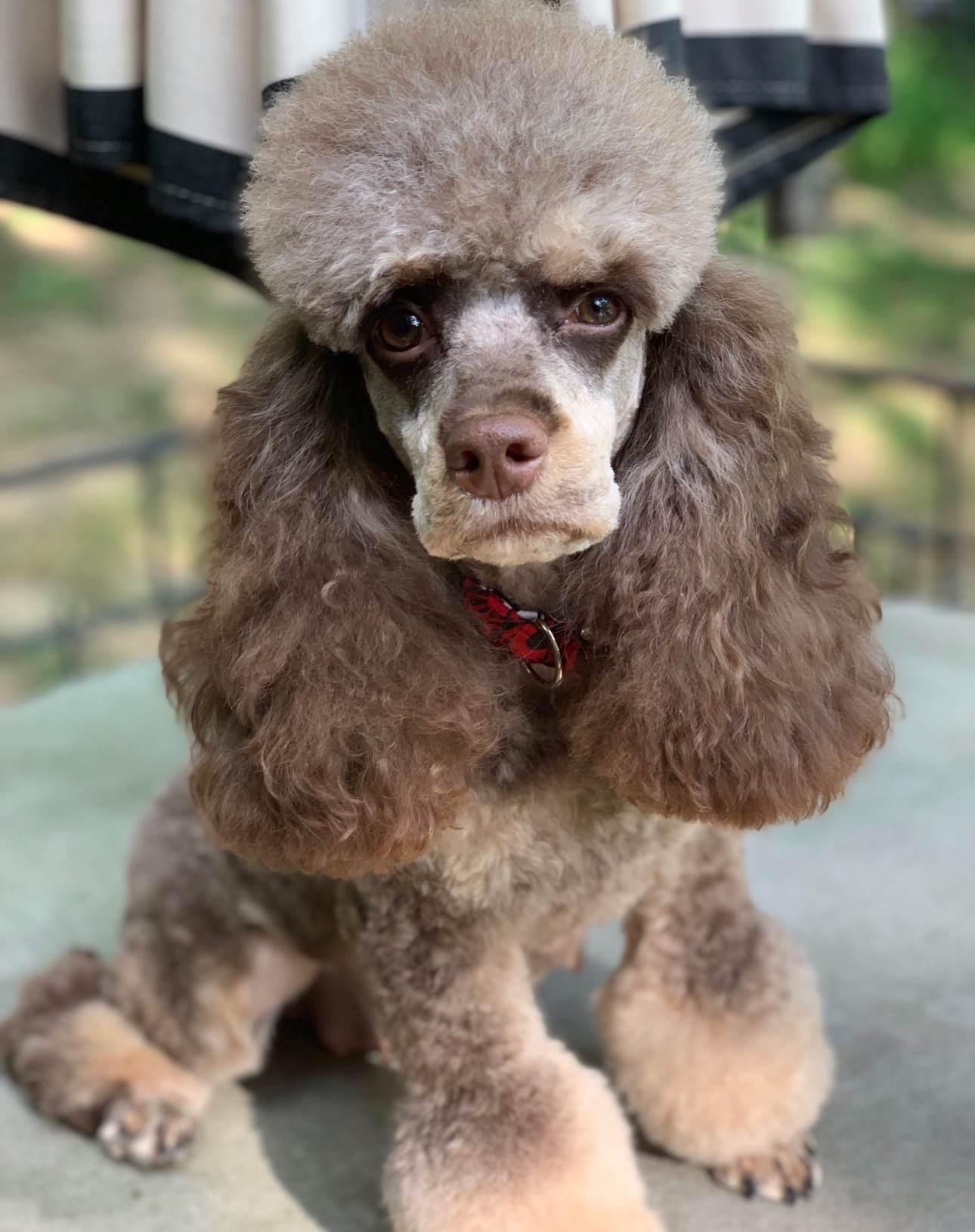 This is Presley, she is an F3 cockapoo that lives here in town in a guardian home. She is an absolute ball of fun, and jumps up to give me kisses when she sees me. I love that she lives just a minute away and we get to see each other several times a week. She has super curly hair and we love to poodle our doodle.
This is example text. Please click here to edit the text.
This is example text. Please click here to edit the text.
This is Mia, she's the newest addition to our program. Mia is a gorgeous buff and white parti girl. She is the daughter of Lhotse and Chance and is an F2B cockapoo. She lives in a guardian home here in Lafayette with lots of family to play with, She goes to work with her Mom every day and gets lots of attention from customers downtown. Her favorite place to sleep is right in the middle of her Mom's desk while at work and on her Mom's pillow at night. She will be one of our moms in 2022. The moment she was born I knew I had to keep her, and look forward to what she will bring to our program.
"Is there a '10 star' and beyond category for a review of Celeste and Heavenly Cockapoos, because that's what I most certainly would chose for this wonderful breeder! We had the most amazing experience every step of the way from choosing Stella all the way to welcoming her into our hearts and falling in love with her the moment we met her at the airport! Thoughtful, kind, understanding and thorough are just some of the words to describe this woman who is so devoted to every one of "her babies" and who loves to see each and every one of them eventually find their way to their new lives with their "forever" families! Our Stella is a true testament to everything Celeste does for these pups...right from birth until they leave her loving care to become a wonderful family member or...in Stell's case...a princess...to people like us who couldn't be happier to spoil her and just "love her up" for the rest of her life!"
Sara and Charlie Gird
Cape Cod MA
Miss Stella (Ivy x Riley 2018)


"I've known Celeste Edwards and her love of dogs for over 20 years. No one loves her dogs more or takes better care of her furry babies than Celeste. I knew when I was ready to get another dog it would have to be from her. She truly loves her dogs who are really her children and the puppies become her grand babies. They're beautiful and healthy. puppies. I am so happy to have Yo-Yo. Having a puppy from Celeste and Paul makes us family. It's the best decision I've ever made. Yo-Yo has become my furry child I love dearly. Being a guardian is an honor because her option of me means the world."
Chris and Lisa Tarvin
Lafayette IN
Yo-Yo (Charlie x Lyric 2018)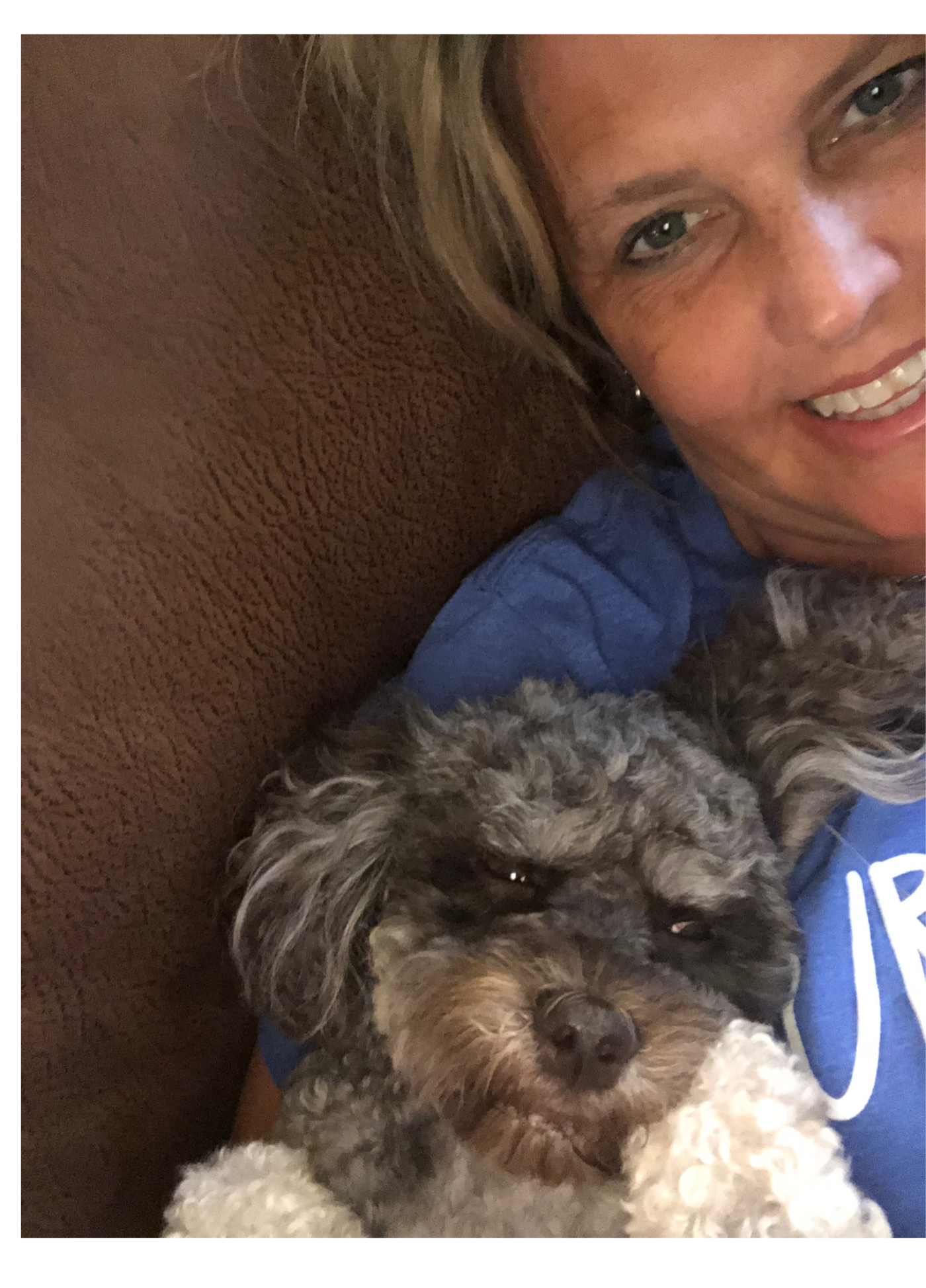 "How can you put a price tag on a best friend? This little girl has sat with me through difficult and sunny days-always loving our family! She makes us laugh with her crazy antics, and loves us with her whole heart. She is my constant companion and my bestest buddy. Somehow Paisley sees straight to my soul~ I don't know where I'd be without this silly, sweet, and super smart little girl! Celeste breeds healthy happy dogs. We wouldn't hesitate buying another best friend from Heavenly Cocakpoos!"
Karen, Dennis, and Jaci Combs
Davenport FL
Paisley (Charlie x Lyric 2016)
"Back in December 2018, Ivy had puppies. Celeste posted them and I watched the puppies for a long time. I have a 9 year old cockapoo, and wanted to get her a friend. I asked so many questions, if I were Celeste, I would have been sick of me. I had been watching the same puppy for some time, Bexlee. (aka Angel) She was all chocolate and I really wanted a chocolate. I asked so many questions about her coat lightening, allergies, etc. Celeste answered every single question that I had and in depth. Bexlee is now my second Cockapoo (probably the only breed I will ever have) and I am so happy with our experience. Celeste sent me pictures and videos so I was able to watch her progress from MI. There are three things that made my decision.
1. Celeste being so welcoming and giving me so much history on why she is a breeder, she does it because she loves the breed. She has one litter at a time so that she is able to provide the attention and care they need.
2. Celeste has all her breeding dogs genetically tested to make sure they don't have any health issues.
3. For as long as I watched Bexlee and even before I put a deposit down, I would ask if anyone claimed her. Celeste would tell me "not yet." It took me a long time to make the decision and I truly feel that Bexlee was meant for me. I would not even consider getting a Cockapoo from anyone else. Celeste is the BEST!!!!
Melissa Conrad
Midland MI
Bexlee (Ivy x Riley 2018)
"Cuddles, cuddles, and more cuddles! These adorable companions are sure to chase away the blues...
Since he was little our son wanted a puppy (what child doesn't!?). However, my husband and I were against it because our home is small and we were not accustomed to having any pets.Yet when he turned 8 and began taking more responsibility, we decided to entertain the idea. Boy, was that a mistake!!! Lol
One look at Lyric's first puppies from Heavenly Cockapoos and our hearts were stolen! We met Hershey an infamous snuggler, and knew she had to be part of our little family. I can no longer remember our home without her persistent kisses or pitter-pattering feet.
As first-time dog owners, we really had no idea what we were committing to - which is where Paul and Celeste were nothing short of amazing! The puppies were already so healthy and well cared for, with no aspect overlooked. Celeste walked us through the process in such a personal way. Her tangible love for the pups and attention to detail impressed us greatly - this cannot be understated! We had a million questions, to which she responded with patience and expertise, before, during and after the adoption process. Over the years that have followed, she and Paul have been incredibly gracious, knowledgeable, supportive, and kind.
Because of this wonderful experience, we returned for our second puppy (Reese)! We couldn't imagine getting any other breed or going to anyone else. They are more than just professional breeders, they have become like extended family to us and our cockapoos. We are so thankful for them, and for the lovable pets they provide."
Max, Trishia and Micah Kholodenko
Chicago IL
Hershey (Lyric x Charlie 2016) and Reese (Lyric x Charlie 2017)
We want to make sure every family gets the right puppy for their home. Please contact us to get an application if you are interested in placing a deposit to hold your puppy.
heavenlycockapoos@gmail.com
The American Cockapoo Club is a Registry and a Club that is dedicated to promoting the cockapoo as a breed unto its own, while encouraging and supporting its cockapoo breeders. Their website is also intended to help educate the general public about Cockapoos, as well as provide information on how to care for your puppy or dog.
We recommend NuVet Plus and NuJoint Plus. The Veterinarians, Physicains, Pharmacists, and Nutritional Scientists of NuVet Labs have blended a combination of human grade, natural vitamins, minerals, herbs, antioxidants, bioflavonoids, fatty acids, and amino acids to combat the ravages of free radicals and to provide immune system support to your pets. Allergies, skin and coat problems, arthritis, tumors, cancer, cataracts, strokes and heart disease are a few examples of some major diseases said to be caused by free radicals. Unfortunately, these diseases lead to suffering and premature death in our pets which none of us want to deal with! NuVet Vitamins can help to significantly reduce or eliminate the problems in your pets such as:
Skin & Coat problems
Scratching
Itching
Hot Spots
Allergies
Arthritis
Premature Aging
Low Energy Levels
Cataracts
Digestive Problems
Heart Disease
Tumors
NuVet is a natural, human grade supplement that is manufactured in a FDA (human grade) pharmaceutical manufacturing facility. Thousands of the nation's top breeders use NuVet Plus to keep their puppies, kittens, breeding females and males healthy.
Revolutionary product, affordable-natural, water soluble
GUARANTEED - No sugars or fillers
GUARANTEED - They use real chicken liver - not cooked but instead it's paddle dried by their patented process to preserve it's Omega Fatty Acids
GAURANTEED - Not heat treated (heat destroys vitamins A, E & B1) - it's why NuVet Plus wafers crumble easily
GAURANTEED - So pure it's produced in an FDA (human-grade) manufacturing facility (virtually unheard of in the pet industry because of the high cost / monitoring required)
Their team of Veterminarians, Physicians, Pharmacists and Nutritional Scientists took eight years to develop this revolutionary product.
On the market for over 13 years/ NuVet is one of the oldest U.S. pet supplement companies.
MONEY BACK GUARANTEE - Call now to order this revolutionary product. If this isn't the most incredible pet supplement you've ever had, they'll give your money back!
This product is not sold in stores, to order:
Visit their website at: http://www.nuvet.com/42341
or call (800) 474-7044 and enter in ID code: 42341
You must have an ID Code to order this product. Customers outside the U.S.must place their orders by phone.